59th Annual Members' Juried Competition

Floral Park Art League Events

Floral Park Art League Events

All images copyright by artist, all rights reserved.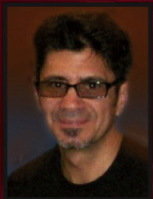 Rob Silverman has been featured in American Workshop Magazine and The Art Of The Portrait, the official publication of the Portrait Society of America. He was awarded First Prize by the official portraitist of JFK and Family, Aaron Shikler, at the Common Thread Portrait Exhibition in New York. He currently teaches Figure Painting at the North Shore Art Academy and Portraiture at National Art League as well as Workshops at the Art Students League of NY

His work has appeared at Crosby Street Gallery and Spring Studio Gallery in Soho, the Artt Guild of Port Washington, the Art League of Long Island, Edward Hopper House, Lockwood-Mathews Museum, as well as the National Arts Club and the Salmagundi Club.

Mr. Silverman has a BA from the School of Visual Arts and has studied with Harvey Dinnerstein, Burton Silverman, Nelson Shanks, and David Leffel. He is a member of the Portrait Society of America from which he was awarded an Honorable Mention in their 2009 Members' Exhibition..

Echo

by Lillian Forziat

16 x 20

oils on canvas

"Very striking still life with subtle and original theme and harmony of shapes and color. An unusual assembly of objects, a witty use of birds theme. A satisfying composition with a clear hierarchy of interest points. An excellent use of edges, sharp to blurred, and an excellent use of values the high key with the eggs as the focal point. A beautiful frame that compliments the work."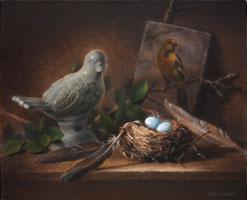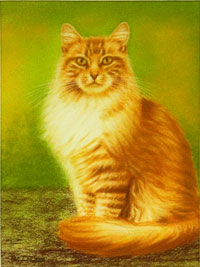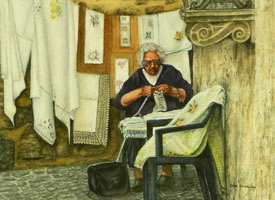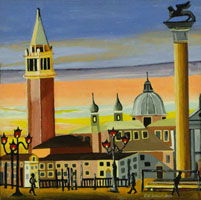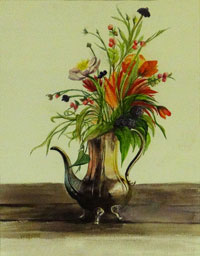 Jurist Rob Silverman with artist Lillian Forziat and Echo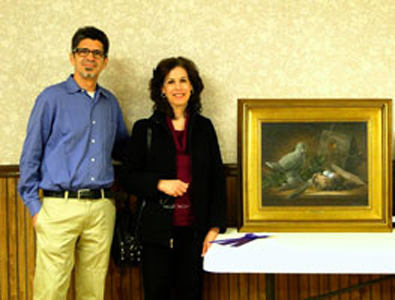 Regal

by Patricia DiComo

14 x 10

pastel

"A well balanced composition showing a cat with a 'presence' and a regal disposition 'confronting' the viewer in a very interesting composition. Unusual color combination, but satisfying in harmony. A skillful handling of pastel creating a riveting cat portrait. A striking composition and good use of tail as a stabilizing element of support."

note: the jurist was unaware of the title of this painting during his evaluation process.

A Darn Good Yarn

by Don Zwerling

11 x 15

watercolor

"Very strong 'presence' of a woman who seems to be very focused on her knitting task. A highly skilled use of watercolors in rendering fabrics and figure. The well placed figure and use of contrasting values with dark sweater against light colored fabrics creates strong composition. The unusual and striking use of fabrics creates interest as we imagine this to be her life's work. "

Piazza San Marco

by Donna Blossom

12 x 12

acrylic

Golden Pitcher

by Dorothy Webster

11 x 14

watercolor

"A very charming colorful scene that makes the viewer want to know about the local. A very interesting use of the two towers with the beach/seascape as backdrop, and the figures in the foreground. A lovely use of color in acrylic with nicely dry brushed clouds. The high contrast elements in the foreground pair well with the soft, pastel-like colors in the background. The square shape is striking and inviting. "

"An unusual floral piece with lovely contrast of metal texture to leaf/stem/flower delicacy. A very unusual choice of flowers with great variety in an interesting arrangement, a nice balance of flowers against the spout of the pitcher. A nice handling of watercolors."